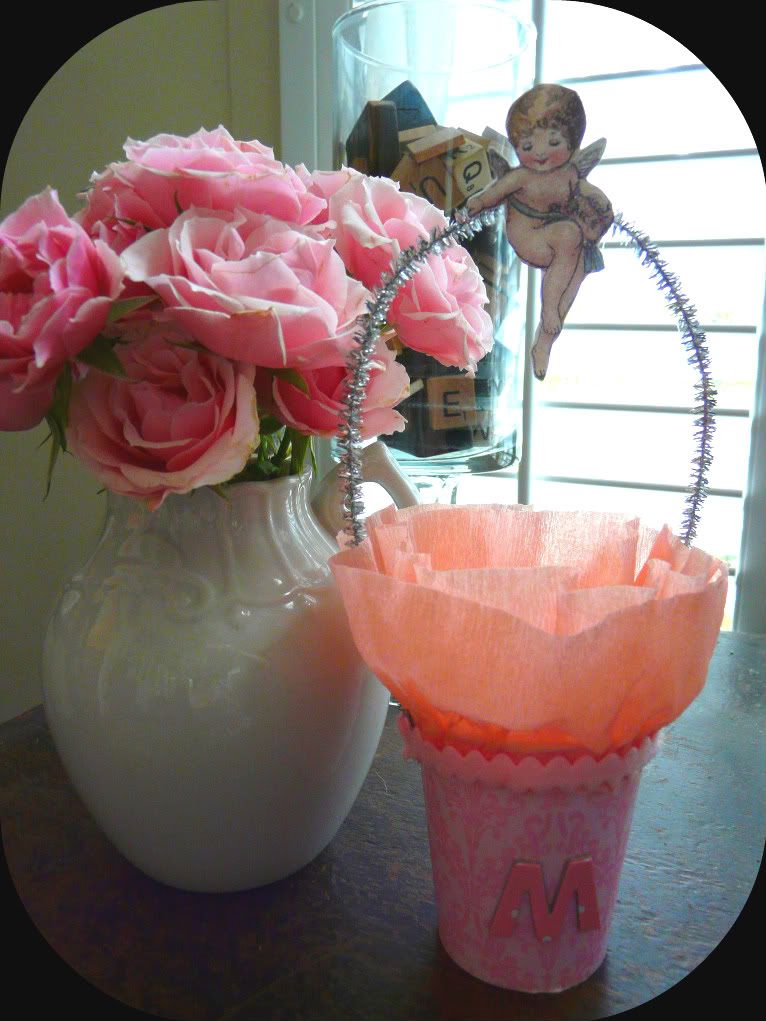 I recently had the pleasure of having some of my youngest daughter's friends over for tea. It was a delightful little party, and was so easy to put together. It gave me and my girls an opportunity to plan a party together, create a menu, and to pull out some of our vintage linens and china. It showed my girls, and reminded me, that you need not go to elaborate lengths, expense, and preparations to have a charming and memorable party. All you need is a little creativity and a few good friends.
With the first day of school looming ever closer, we had little time to prepare, cook, or shop, so it was wonderful to be able to pick up so many of the little treats on our menu from Trader Joes. While there, we found the most lovely little assortment of salt-water taffies in soft pastels, which inspired the creation of the little treat baskets we put together, using supplies we already had at home, and based on the treat and nut cups that were popular at children's parties in the Victorian era.
To make your own festive treat baskets, here's what you'll need:
Tissue or Crepe Paper
Paper drinking cups
Scrapbook Paper or Wrapping Paper
Glue Stick
Hot Glue Gun
Scissors
Pipe Cleaners
Ribbon or ric rac trim
Embellishments: Scrap images, glitter, etc...
You can download the vintage scrap images I used for my baskets HERE:
Step 1: Dismantle one paper cup by cutting down one side, removing bottom,

cutting off the rim, and flattening out. This is your cup-sleeve template.
Step 2: Trace the template on to the reverse side of your decorative paper. Cut out cup-sleeve.
Step 3: Apply glue, with your glue stick, to the back of the cup-sleeve, then wrap around a cup.
Step 4: Apply hot glue to half of the inner top rim of the cup. Apply a crepe paper strip (approx. 2" x 12") to the glue, ruffling as you go. Apply glue to the remaining half of the cup and finish the ruffled crepe paper border.
Step 5: Create an outer ruffle by using the same technique as in Step 4, applying glue to the top, outer border.
This will give you a full double-ruffle
Step 6: Hot glue end of pipe cleaner to one side, and then the other, to create a handle.
Step 7: Use hot glue to adhere a ribbon or ric rac border
Step 8: Embellish with scrap images and do-dads
Our simple, yet elegant tea party menu included:
Madeleines
Meringues
Macarons
Mini Chocolate Biscotti
Fresh Strawberries
Sesame Chicken Salad Tea Sandwiches, my daughter's favorite (recipe HERE)
Cucumber Tea Sandwiches
Peach & Vanilla Teas
We made some quick and yummy "
Cheater Scones
" with a package of Trader Joe's buttermilk biscuits. My daughter pressed down each piece of biscuit dough on a lightly floured board, cut into a heart shape with a cookie-cutter, and placed on the baking sheet. We were able to combine the scraps and roll them out and cut an additional dozen "scones". Before baking, we brushed the tops with cream and sprinkled them with pink sanding sugar. They were delicious, fun and easy.