Red Velvet Revelations -- A Little Birdie Told Me...No. 28
"A Little Birdie Told Me..." Tuesday!
If you're here to share a craft, recipe or project post,
you'll find the linky and the specifics on how to
join the party after the features below.
------------------------------------------------
I have a confession to make: I've never been a big fan of Red Velvet cake. But I'm not here to rant about my cake personal cake issues. Quite to the contrary, I'm happy to be highlighting two Red Velvet Cake recipes that shatter my preconceptions about the cake being nothing more than a food-coloring overloaded vehicle for cream cheese icing. These two recipes, I believe, could stand on their own without any icing at all and be perfectly, wonderfully delicious!
If you're Red-Velvet-ambivalent, give these recipes a try. Note that each uses a tablespoon or less of food coloring, not a full bottle like in some recipes.
The buttermilk and vanilla
rely on a mere 1/2 teaspoon of gel food color
to get their signature ruby zing!
At just 141 calories per cupcake, the
get a healthful, low-cal kick from
whole wheat flour and applesauce!
---------------------------------
(this week, or in a previous week)
feel free to grab a "featured on" button
from the sidebar.
---------------------------------


Now it's time to link-up and share your creativity!
1) JUST BECAUSE YOU'RE NICE
-- COMMENT AND FOLLOW
2) LINK-UP --
Link-up the URL of a specific post --
craft, recipe, DIY project, or anything else you'd like to show-off.
This is not a place to advertise merchandise you are selling. If you're interested in promoting your business with Rook No. 17, please visit the "Advertising" section.
3) POST THE BUTTON OR A LINK-- Grab the code for the button (below) and paste it into your sidebar or the body of your post.
4) VISIT the 2 LINKS AFTER YOURS --
Linky parties only work if we all do our part to support and encourage one another.
-With the new LinkyTools format, your link will appear first, rather than last-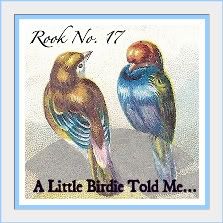 HOW TO:
1) click your cursor in the code box,
2) right-mouse click and "Select All",
3) right-mouse click and select Copy.