A Little Birdie Told Me...No. 36 - Featuring Sea Creature Cakes
She is mine own,
And I as rich in having such a jewel
As twenty seas, if all their sand were pearl,
The water nectar, and the rocks pure gold.
~William Shakespeare
Welcome to
"A Little Birdie Told Me..." Tuesday!
If you're here to share a craft, recipe or project post,
you'll find the linky and the specifics on how to
join the party after the features below.
------------------------------------------------
10 years ago I spent Labor Day weekend in LABOR.
This weekend, we celebrated the 10th birthday of our sweet Madeleine, and created a special little cake confection in her honor:
Oyster & Pearl Madeleines.
I'll be sharing the sweet & easy tutorial on Wednesday, but today I'm spotlighting the whimsical ocean inspired sweets that landed on the shores of "A Little Birdie Told Me..." last week:
------------------------------------------------
from The Seven Year Cottage


---------------------------------
(here or on Facebook)
feel free to grab a "featured on" button
from the sidebar.
---------------------------------


Now it's time to link-up and share your creativity!
1)
FOLLOW AND LEAVE A COMMENT. Seeing the friendly faces of my guests on the sidebar makes all the work that goes in to hosting a "party" worthwhile!
2) LINK-UP --
Link-up the URL of a specific post --
craft, recipe, DIY project, or anything else you'd like to show-off.
This is not a place to advertise merchandise you are selling. If you're interested in promoting your business with Rook No. 17, please visit the "Advertising" section.
3) POST THE BUTTON OR A LINK-- Grab the code for the button (below) and paste it into your sidebar or the body of your post.
4) VISIT the 2 LINKS AFTER YOURS -- Isn't it great, when you're "discovered" by a new fan as a result of linking up to a party? Pay it forward and make someone's day!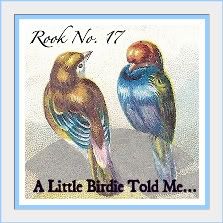 HOW TO:
1) click your cursor in the code box,
2) right-mouse click and "Select All",
3) right-mouse click and select Copy.
4) Paste the code into your sidebar or post.
REMEMBER TO
VISIT the 2 LINKS AFTER YOURS
The links are featured from newest to oldest,
so everyone gets a chance to go "first".