Gingerbread Delights & Hodgson Mill $25 Gift Certificate Giveaway
A Little Birdie Told Me...No. 50!
A page from my Great Grandmother's hand-written cookbook.




----------------------------------------
Welcome to
"A Little Birdie Told Me..." Tuesday No. 50!
To celebrate, everyone who links up and comments this week will be entered in a random drawing for a $25 gift certificate to Hodgson Mill!
(details below)
----------------------------------------
We may no longer bake with lard or molasses by the pint like my Great Grandma Maggie did, but one thing hasn't changed: Using a high quality flour makes all the difference in your baked goods. I recently had the opportunity to sample some of the flours from Hodgson Mill, a family owned business that's been grinding grain since 1882! I can honestly say their wheat flour is the best I've ever baked with.
I'll be sharing my recipe for Cranberry Upside-down Babycakes, using Hodgson Mill Whole Wheat flour on Friday, but in the meantime, Hodgson Mill is generously giving away a $25 gift certificate to one lucky "A Little Birdie Told Me..." participant. You can spend it in their online store where you'll find flours & meals, pastas, cereals, mixes, gifts and even some gluten-free products!
GIVEAWAY!
To enter: Simply link-up (regular party rules apply) and leave a comment telling me what you're baking this month.
I'll use Random.org to select a winner when the linky closes at 8:00 PM PST on the 14th

------------------------------------------------
In honor of my great grandma's affinity of ginger treats (her cookbook is filled with them), I'm featuring two posts I know she would have loved!
from Susie QT Pies Scraps of Life
---------------------------------
(here or on Facebook)
feel free to grab a "featured on" button
from the sidebar.
---------------------------------


Now it's time to link-up and share your creativity!
GUIDELINES FOR GETTING THE MOST
OUT OF THE PARTY:
I personally visit each and every link.
If you leave a comment after linking up,
you can count on a personal comment back.
1)
FOLLOW Rook No. 17. Aw shucks, it just makes your host feel appreciated.
2) LINK-UP --
Link-up the URL of a specific post --
craft, recipe, DIY project, or anything else you'd like to show-off.
If you have something for sale, please refer to the "Advertising" section.
3) POST THE BUTTON OR A LINK-- Grab the code for the button (below) and paste it into your sidebar or the body of your post.
4) VISIT ONE other link -- Isn't it great, when you're "discovered" by a new fan as a result of linking up to a party? Pay it forward and make someone's day!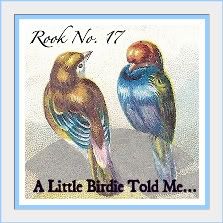 HOW TO:
1) click your cursor in the code box,
2) right-mouse click and "Select All",
3) right-mouse click and select Copy.
4) Paste the code into your sidebar or post.
REMEMBER TO
Visit ONE other link and leave them a comment.
The links are featured from newest to oldest,
so everyone gets a chance to go "first".



Leaving a comment this week gives you an entry in the Hodgson Mill $25 GC Giveaway!