Ninja Birthday Party, Part I ~
Ninja Water Bottle Wraps
My daughter asked for a Ninja themed party for her birthday in January. We've been having lots of fun these past few weeks planning all the details for her "Shadow Ninja Academy" where each guest will "Enter a child ~ Depart a Ninja"!
I had to start somewhere, so I started by creating my own little Ninja graphic to use as our mascott throughout the party. Here he is: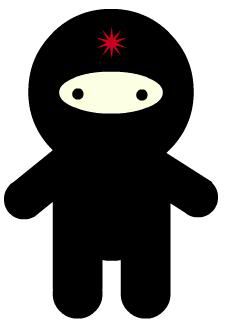 Feel free to use him as you'd like (for non-commericial purposes, of course). If you create anything with him (or her), feel free to share on my Facebook page.
Once we had our Ninja mascot, I created some water bottle labels.
You can download them for FREE through Google Docs by clicking HERE. If you have trouble with the download, please email me and I'll send you a PDF.
Once you've downloaded the PDF you can print the sheet of labels on adhesive backed paper. I like the opaque Avery full-sheet labels because you don't have to take the original wrap off of the bottle, and it doesn't show through. You can also print on plain copier paper, then glue-stick in place on the bottle.
Coming Next...Ninja Scroll Invitations