What Rhymes With Octopus? ~ A Little Birdie Told Me...No. 67
--------------------------------------
Welcome to
"A Little Birdie Told Me..." Tuesday No. 67!
If you're here to share a craft, recipe or project post,
you'll find the linky and the specifics on how to
join the party after the features below.
--------------------------------------
So, what does rhyme with Octopus? According to the rhyming dictionary it's words like opus, rumpus and grampus. Great words, no doubt, but do they really rhyme with Octopus?

Today there's only one "A Little Birdie Told Me..." feature. Just as I'm hard-pressed to find a word that rhymes with Octopus, I couldn't seem to find another post to feature that would tie in with the one that totally won my heart (more like reached out and grabbed it with all eight arms). What can I say? I'm a sucker for cephalopods!
---------------------------------
Knockoff: Lord Bodner's Octopus Triptych
from Revamp Homegoods
Based on a nineteenth century copperplate engraving, Meg recreated this three-paneled masterpiece with black and white latex paint, some clever techniques and lots of talent!
Click HERE to see how she did it!
---------------------------------
(here or on Facebook)
feel free to grab a "featured on" button
from the sidebar.
---------------------------------
Now it's time to link-up and share your creativity!
1)
FOLLOW Rook No. 17 with GFC or Linky Followers
2) LINK-UP --
Link-up the URL of a specific post --
all forms of creativity are welcome.
3) POST THE BUTTON OR A LINK-- Grab the code for the button (below) and paste it into your sidebar or the body of your post.
4) VISIT ONE other link
5) COMMENT (optional) -- As this party grows, it becomes increasingly difficult to visit each and every link without neglecting my family for an entire day (or two). So, here's my promise to you -- Leave a comment and I will guarantee a visit and a thoughtful, genuine comment back.
Link up items you have for sale, Etsy shops, or links to your own linky party. If you have something for sale, please refer to the "Advertise" section.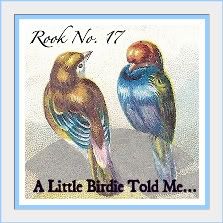 HOW TO:
1) click your cursor in the code box,
2) right-mouse click and "Select All",
3) right-mouse click and select Copy.
4) Paste the code into your sidebar or post.
REMEMBER TO
Visit ONE other link and leave them a comment.
The links are featured from newest to oldest,
so everyone gets a chance to go "first".